From starting with a simple idea to becoming America's premier supplier of public safety equipment, the Witmers have always been passionate about equipping public safety professionals with the gear they need at prices they can afford.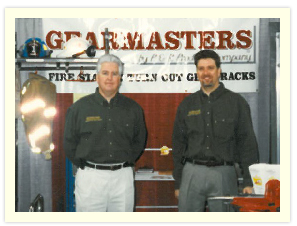 1994

Brothers, Jim and Greg Witmer, introduced Gearmasters, Inc. to firefighters across the nation. Jim's background in the restaurant equipment business plus decades of service as a Firefighter resulted in the creation of newly designed station gear racks that were originally wire rack shelving used in walk-in refrigerators. These gear racks along with their bread-tie designed turnout gear and glove hangers created an effective way for firefighters to dry their turnout gear and gloves by enabling maximum airflow. Greg's acumen in marketing drove the company to the internet before many knew what it was.

1996

The Witmers launched HelmetPartSource.com, the first online store for firefighters to buy replacement parts for their helmets. As a Fire Chief, Jim noticed how new helmets at his station would get stripped for parts. When he attempted to buy parts to fix those helmets he realized how existing distribution cared little for stocking such a variety of small, low cost items. It took some convincing, but with Cairns & Brother, Jim found his first partner to launch his website. With the help of the classified ad section of Firehouse Magazine, HelmetPartSource.com gained traction quickly.

1999

By 1999, HelmetPartSource.com was no longer a suitable name, as customers who enjoyed buying online were asking for a more diverse product offering starting with helmets, flashlights, and gloves. A new name was necessary and TheFireStore.com was born. Firefighters across the nation flocked to the new website to purchase their gear.

In late 1999, the Witmers purchased a 5,000 sq. ft. building in Downingtown, PA to create a welcoming retail space and warehouse for their ever-growing assortment of fire gear and equipment.

2002

In early 2002, co-founder, Greg Witmer passed away after a lengthy battle with brain cancer. As a result, Jim leaned more heavily on Ruth, his wife, and his children to carry the company forward.

2003

In May of 2003, James (Jim's oldest son) and his wife Keshet moved home to join the family business full time. James quickly took to the role of marketing in the absence of Greg. Being an early adopter of search engine marketing made a huge impact on the growth and notoriety of the company.

2004

To better serve fire departments in the tri-state area, TheFireStore established an Outside Sales Team and Service Department when John Major and Jay Abel were hired on. These teams worked hand-in-hand to equip local fire departments with the updated equipment they needed, and service plans designed to keep their equipment safe and operational. This move broadened the relationship with MSA as SCBA, Thermal Imaging, and Gas Detection became a major part of the company.

In May of 2004, the Witmers proudly launched OfficerStore.com, a premier law enforcement and tactical online storefront. This move coincided with Firehouse Magazine launching Officer.com to the LE community.

2005

In 2005 extensive corporate growth and ever-expanding product lines led to a need for a new, custom built, 35,000 square-foot facility in Coatesville, PA. With this addition, TheFireStore was able to equip firefighters around the globe with "EVERYTHING BUT THE TRUCK". Its large showroom and corporate headquarters became a destination store for firefighters across the nation, and its warehouse and distribution facilities made it the largest stocking distributor in the fire industry.

In order to serve law enforcement customers better, the Witmers purchased Pennsylvania Police Supply out of Chalk Hill, PA from Bill Watts. This acquisition gave us access to key product lines and contracts, and expanded our footprint to western PA.

Ann Collins was named Chief Financial Officer in recognition of her role with the company. She was instrumental in facilitating the merger of the two companies and establishing new policies in a unified accounting system.

2007

In 2007, Witmer Associates acquired Moul Enterprises and Mason-Dixon Fire Equipment, expanding its sales and service footprint further west in Pennsylvania, Maryland, northern Virginia, and West Virginia. With these acquisitions came the added sales leadership of Kevin Moul and Kevin Greenlee and their experienced sales forces.

In October 2008, WPSG hired Peter Kosciewicz as Chief Marketing Officer. While the company was growing rapidly before his hire, WPSG took the opportunity to improve the Marketing department across the board with an expert that knew ecommerce well and could bring outside experiences to challenge the conventional wisdom.

2009

Due to rapid growth, in less than 5 years WPSG had outgrown its new corporate headquarters. In an effort to equip first responders with the gear they need faster and more efficiently, WPSG built an additional 29,000 square-foot warehouse and distribution facility. This new building provided the space needed to expand its product offering and implement an updated, streamlined distribution center.

2011

TheFireStore became the first firefighter supply store to serve customers on-the-go by means of a mobile website, TheFireStore.com/mobile.

2012

In January, James Witmer announced to the company that Jim Witmer, his father, had been diagnosed with Early-Onset Alzheimer's Disease. While Jim did not immediately relinquish his titles, he humbly accepted the support of Ruth and James to take on additional responsibility.

WPSG began supporting the Alzheimer's Association in various ways including the "Casual for a Cause" program where a $2 donation per day allows employees to wear jeans to work. Thousands of dollars per year are donated.

As more and more EMS customers flocked to TheFireStore to purchase their medical supplies and equipment, it became evident that there was a growing need to serve the EMS customers better. In January of 2012, WPSG proudly launched theEMSstore.com, an online store focused on the unique supply and equipment needs of the Emergency Medical Service.

2013

In February 2013, WPSG launched a mobile version of theEMSstore.com and OfficerStore.com.

In October of 2013, WPSG launched GideonTactical.com, a website dedicated to meeting the needs of tactical operators and shooting enthusiasts for highly specialized, mission-specific gear.

In November 2013, WPSG initiated a rewards program across all 5 e-commerce sites. This program rewarded first responders for their loyalty to the WPSG brands by offering them 2% back on every purchase. This was the first program of its kind within the public safety equipment industry.

2014

In November 2014, WPSG expanded its footprint to Virginia by acquiring Heroes Apparel in Richmond, VA. This acquisition lead to the establishment of an Outside Sales Force across the state where there had only previously been a retail store and localized relationships.

2015

WPSG expanded its sales territory into New Jersey and brought on 5 full-time sales reps to cover both the fire and law enforcement equipment needs in the state.

2016

In February 2016, James Witmer was promoted to the role of Chief Executive Officer (CEO), assuming the position in place of his father, Jim Witmer, who continued to serve as co-founder and chairman of TheFireStore. After seeing his father grow the company from a family-owned and operated business to a 200+ employee powerhouse, James had a passion for his customers, heart-felt appreciation for his employees, and a vision for company expansion.

To show his appreciation for his employees, in March 2016, James launched the first-ever Employee Profit Based Bonus Plan.

In October 2016, WPSG began its partnership with Handi-Crafters, one of the largest disability-focused employment programs in southeastern Pennsylvania.

2017

James Witmer announced a new, simplified WPSG mission statement "Equipping Protectors with Passion" along with a 5-year plan for growth.

In April 2017, WPSG acquired OurDesigns. This expansion broadened the product offering to include unique custom first responder items. WPSG also expanded to include an online presence on Amazon's Marketplace.

In June 2017, James Witmer purchased an 11.6-acre lot adjacent to the current headquarters that included a 25,000 sq. foot office building. This purchase would allow for the expansion of operational functions, custom product manufacturing, and additional warehousing.

2018

Just as quickly as WPSG had outgrown its physical infrastructure, it also outgrew its technological infrastructure. With a vision for intense growth over the next 10 years, James Witmer hired Bart Noyes, Chief Information Officer, to lead the company through an ERP and web platform migration.

In October, renovations to the new building were completed, and office staff moved from 104 Independence Way to their new, modern office facility at 101 Independence Way. Updates included an open concept break room complete with a coffee bar and exposed ceiling, all new office furniture, eco-friendly restrooms, and expansive floor-to-ceiling windows with breathtaking views of the rolling hills of Chester County. The entryway included a 2-story picture wall featuring photos of public safety professionals. This tribute to their customers stands as a constant reminder to staff to remember who they serve and why their jobs matter.

2019

In January 2019, WPSG acquired Interstate Arms, a wholesale firearms, accessories, and ammo distributor located in Billerica, MA. This purchase expanded WPSG's brick and mortar footprint, supported sales and operations in New England, and strengthened OfficerStore's position in the marketplace.

2020

In January 2020, Nancy Grycewicz was hired as the Human Resources Director to provide strategic guidance during the company's evolution and growth and its pursuit to be a sought-after place of employment.